2021 Nissan Rogue Review For Stratford, Ontario
Meet the New 2021 Nissan Rogue at our Stratford Nissan Dealer in Stratford, Ontario
If you've got your eye on the 2021 Nissan Rogue, our dealership can fill you in on the nitty gritty with a comprehensive review and buyer's guide. The latest incarnation of the long-running SUV hits the market with a revamped design, improved tech suite and enhanced performance, and we at Stratford Nissan are thrilled to give customers old and new a rundown thereof. If you're based in Stratford, Ontario or the nearby areas of Kitchener, Guelph, Woodstock, St. Thomas, Finch, or London, feel free to contact us for a closer look at the new Nissan Rogue for sale among our varied new inventory.
Enjoy Enhanced Power and Handling with the Revamped Nissan Rogue
Those who know the Rogue's history will be ecstatic to hear that Nissan's revamping of this SUV extends far beyond its aesthetic. Yes, the 2021 Rogue packs a familiar 2.5-litre, 4-cylinder engine, but it's benefited from a welcome boost in power to 181 horses. Rounding out its standard hardware are a continuously variable transmission and front-wheel drive system, although a tantalizing all-wheel drive (AWD) option is available for those who covet optimal control at the wheel in all driving conditions. And if you're acquainted with the Nissan Rogue's previous incarnations, you'll quickly notice improved acceleration and deft handling in the 2021 offering. Reviews have also applauded the new Rogue's fuel economy, one yielding 11.4 and 14.9 km/L on city and highway, respectively. Get in touch with our dealership today for further details regarding our new Rogue inventory's hardware.
2022 Nissan Rogue Exterior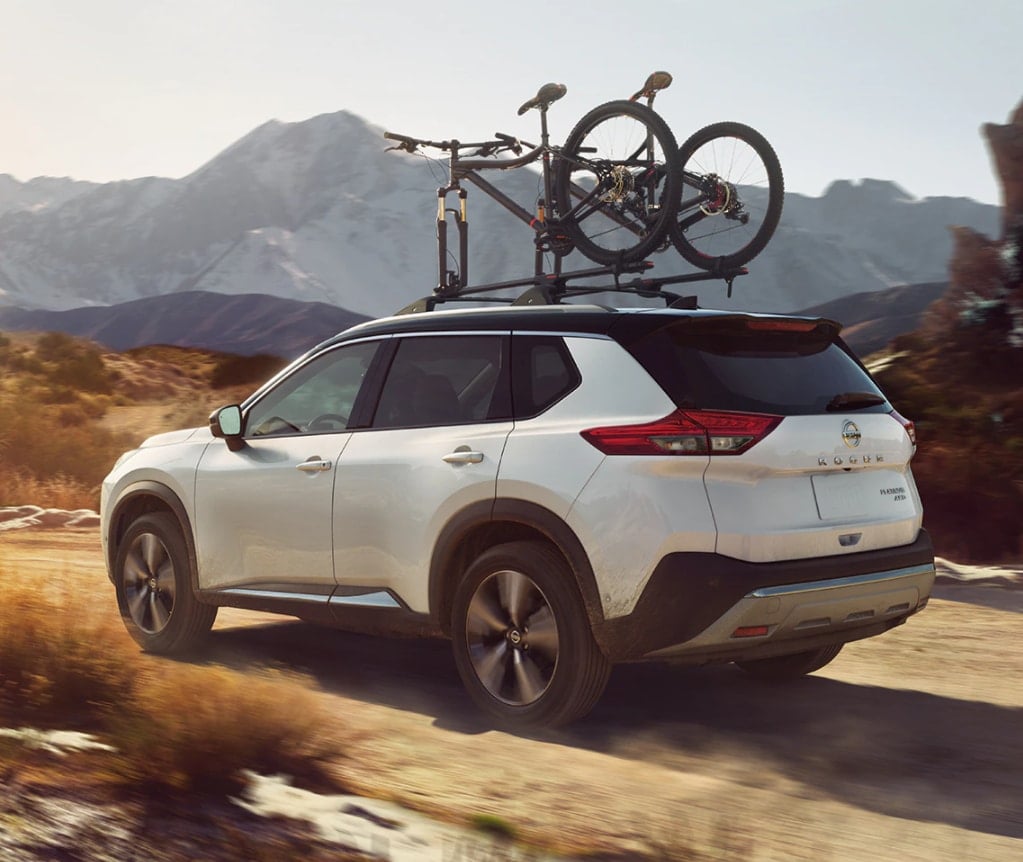 2022 Nissan Rogue Interior
The 2021 Nissan Rogue: Stunning Design and Comprehensive Tech for the Modern Motorist
Resting on 17-inch aluminum-alloy wheels and punctuated by sleek automatic LED lights, the new Rogue's sharp exterior is a sight to behold, and luckily for Nissan diehards, its interior is just as impressive. Cloth seating materials come standard, although faux and genuine leather options are available in the 2021 Rogue's higher trims. Standard dual zone automatic climate control provides optimal, personalized comfort year-round, while heated front seats and steering are also available to keep you cozy through Ontario's more trying months. As far as seating arrangements go, this Nissan SUV has ample room for five passengers, and its foldable rear seats and available storage compartments provide added cargo room for more demanding journeys. The new Rogue's cabin is easy on the eyes as well, with a bi-level dashboard adding a pinch of style and refinement unseen in previous variations.
Furthermore, the bulk of the 2021 Rogue's reviews have lauded its tech suite, one offering the best in connectivity, infotainment and driver-assist functions. A standard 8-inch infotainment touchscreen occupies a prominent position on the dash for easy access to your control panel, with a 9-inch upgrade available on the Rogue's upper trims. SiriusXM satellite radio, Apple CarPlay and Android Auto are all included in this new SUV's tech package, with Voice Recognition and Bluetooth hands-free connectivity making easy work of wheeling and dealing without taking your eyes off the road ahead.
Like its Nissan stablemates, the 2021 Rogue boasts an excellent safety and driver-assist package that would make more than a few competitors green with envy. For starters, staying in tune with your vehicle has never been easier thanks to the new SUV's Advanced Driver Assist Display, and that's just the tip of the iceberg. Leading the latest Rogue's Safety Shield 360 suite are standard Intelligent Emergency Braking with Pedestrian Detection, Intelligent Forward Collision Warning and Rear Intelligent Emergency Braking. This trifecta will prove invaluable when braving bustling thoroughfares and keep you abreast of countless potential hazards. A standard Lane Departure Warning function does its part to keep you out of harm's way on a busy highway, while a Blind Spot Warning acts as an extra set of eyes when you need to change lanes. And if you covet a symbiotic relationship between SUV and driver, the 2021 Nissan Rogue's top trims feature a ProPilot semi-autonomous driving mode.
If you'd like to get started with your purchase of the new Nissan Rogue, get in touch with Stratford Nissan's finance department today. A member of our team will be thrilled to assist you.